Week 4 – 18th – 24th June 2022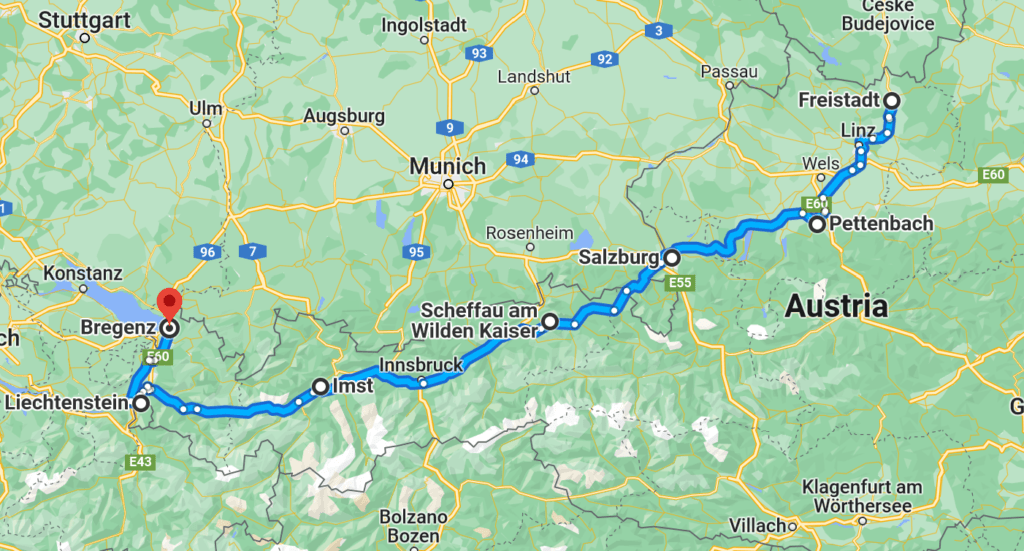 This week the whole of Europe is experiencing a heat wave. London, Paris and Rome are all in the low to mid 30s and Austria is no exception. We have gone south and now are moving west through Austria to Liechtenstein, then north back through Germany and finally home through France.
Austria is probably one of the cleanest and tidiest countries we've been through on Jess, everything is just immaculate. Even the roadworks are orderly and tidy.
The highlight this week is a trip to Salzburg where we will do some Mozart stuff. More of that later.
Saturday 18th June 2022
Freistadt was nice, very nice. Del has decided that the local beer there is the best he has had. There is no rush to leave this morning, it's a 1 hour drive to our next stop and the site we are in has said that there is no rush or time to get out so we have a long breakfast then pack up. It seems to takes ages to pack up in the mornings and have breakfast, which in itself takes a while. We clean up breakfast, put all the outside stuff away such as chairs and tables and the awning, then we have to secure the van for travelling, lock the windows, put the shades down, secure the cupboards and close the skylights. Feels like an age!
Finally we are off and on our way. The roads are very smooth and the tunnels the cleanest ever. Each vehicle has to pay for a "vignette", it's a fee that is mainly for using the motorways, so with the amount of cars on the road they are making a fortune hence the immaculate roads, tunnels and infrastructure.
Soon we start to see mountains, they fill the horizon and look spectacular especially amongst all the green fields. Beautiful.
Today we are going to Camping Almtal. We don't know much about this place except that it has a pool, good walks and cycling and they have some Alpacas, so why not.
It's a lovely drive to Pettenbach and the entrance to the site has an imposing grand hotel, the campsite is to the left of the hotel. The staff are friendly but the site is packed, but really packed with kids running around on cycles, skateboards and electric scooters, and it's hot, it's so very very hot here. We are shown to our pitch which is the worst possible place you cound be. It's basically an overspill field, granted it's well cut and looked after but there is no shade, non whatsoever.
We find a spot and settle in, the heat is unbelievable the temperature inside the van is 39 degrees. We go for a walk around the site towards the pool, which is crammed. This place is a 'family' site and we have hit the worst time as it's the weekend and HOT! We are also the only Brits so we are courting some stares, lots of them, especially when Hayley is driving, not because she is bad, far from it… she's a woman… driving a van… how can that be? That kind of stare. They do have some tractor rides for kids though.
We soon get used to our new surroundings and have a walk to see the hot Alpacas, it's a nice place and all that, but we have come at the wrong time for sure, thankfully it's just for the night.
There is a band on poolside and a massive BBQ, the heat is wild. Why do we think standing over a hot fire playing with hot food in the hot outdoors is a good thing?
Sunday 19th June 2022
Big day today, well for us it is anyway. Today we are driving to Salzburg for two nights and doing the whole Mozart thing as he is our favourite composer. Salzburg was where he was born and lived to the age of 25 and also where his father, Leopold, died.
Today is also the day when Jess needs a bath. We have been out nearly three weeks in hot dusty weather and rain, so she is looking a bit 'scruffy'. We get her into a good car wash were she gets 'the works'. After almost half an hour she looks amazing, gleaming, ready to present herself to Salzburg.
It's hot today, hotter than yesterday. We see 33 degrees on the dashboard on the way to Salzburg to our new home for the next two days, Camping Nord Sam. We arrive and the office is closed but they instruct you to go in and find a spot and get settled in. We are determined to find a shady spot and this place does not disappoint. The spot we choose is so shady that it's dark inside the van and already you can feel a couple of degrees falling off the high temperatures that we have just had.
We get properly settled in, the weather is to change later to some light rain then heavy, so they say, so everthing is put out to make it a proper home. It's a great site, very campy and homely with everything that we need. Excellent.
Not wanting to waste too much time we buy a Salzburg Card online which gives you use of the buses and entrance to all the attractions and museums in Salzburg. With the help of the internet we are soon onboard the lovely air-conditioned bus for the 5 minute journey to Salzburg.
It's a really beautiful place, compact and quite charming, as you would expect.
We head for Mozart's birth house, which is oddly above a Spar Supermarket! Once in though it is interesting, lots to see and read, the highlight of which is the actual Clavichord that Mozart wrote The Magic Flute, amongst others, on. When you stand there and look at something like that, right in front of you, for real, it is quite something. It was also quite small.
Time for kaffee und kuchen (coffee and cake). We happen to fall into the Paul Furst konditorei (cafe to you) and have the most amazing chocolate cake and coffee. The interesting thing about this cafe and Paul Furst is that they have the 'Original Mozartkugel', a small ball of marzipan or pistachio filling surrounded in plain chocolate and famous in Salzburg.
This piece of confectionary was invented after Mozart's death but as we see in this city they will put his name on anything. We try one and they are quite special. Salzburg was also the home of Christian Doppler known for his Doppler effect principle – he too has his name on some chocolates!
We spend the next hour wandering around taking it all in before heading back for dinner. Hayley is a bit worn out. She didn't sleep well in the heat of the previous night and we have been walking about quite a bit by now. Del makes dinner tonight and we just sit out side wittering away and drinking way past eleven. Just as dusk was falling we were both presented with a light show…
Dozens of fireflies, very pretty, we've never that seen before. It's the female that glows luminescant green to attract a mate, but the time is critical as it's only for a short time just as dusk starts.
A great day and a lovely way to end it. More tomorrow.
Monday 20th June 2022
We are woken up this morning by rain, it was forecast, but it's still hot. As soon as the rain stops we are back on the bus and making our way into Salzburg town once again. Today we want to see the house where Mozart lived and where his father died. It's a rather unassuming building but inside it's very informative and well worth a look. More walking around town, which is crammed with churches and catherdal type buildings, loads of them.
En route Del decides on a pretzel, just a small one though as there is a special dinner tonight. We go into the cathedral which has seven organs and over 100 paintining on the walls and ceilings.
It's a very large and impressive building and we are lucky today as there is a 30 minute concert on. Mendelssohn – too many notes.
There is a castle here and a small funicular cable car gets you up to it where the view of Salzburg is spectacular, just amazing. There are lots to do and see up here, but time is marching on. We need to get back to the camp and change for tonight's rather special dinner.
Tonight we are going to a Mozart dinner concert. The location is rather special too. It's Europe's oldest restaurant, this place goes back to AD803.
Tonight we are dining here in candlelight with a 5 piece chamber orchestra and two opera singers all in period dress who will perform various pieces by Mozart inbetween courses.
The room where we dine was also frequented by the man himself. Again, like his home, it's a little understated, grand yes but not too grand.
What an unforgettable night we had. It goes down as one of the best dinner/entertainment nights that we have had.
The music, of course, was great and singers amazing and the food superb. Two and a bit hours later we leave humming the tunes through the streets to a late night bar where we finish off with a cocktail each before getting an Uber back to the campsite. Brilliant.
Tuesday 21st June 2022
Salzburg has gone in our top 5 cities. A wonderful place. Today we are continuing our journey west to Scheffau am Wilden Kaiser and to a new campsite. The scenery here in Austria just gets better and better with each mile as the Tyrol Mountains just go on forever.
We get a warm friendly welcome at Kaiser Camp and get a pitch for the night. The views just from the van are amazing. Vast tall grey mountains on one side and huge tree covered hills on the other.
Grey skies today but again it's still warm. There is a small swimming lake here, just next to the van, so Hayley thinks that it might be nice to have a dip. The lake is fresh water and cool. How will she get on?
As expected the water is cold but after a bit of grimacing and splashing about she is in and once she has adjusted to the temperature she loves it and spends some time in there swimming past the water lillies and dragon flies.
It is a lovely and relaxing setting, quite stunning and so far the most expensive at 44 euros a night but worth every cent.
As dusk rolls in we hear thunder and the sky is looking heavy and dark but as the sun sets in the east, it skims the tops of the clouds and produces some beautiful colours, the light is difficult to describe and it only lasts for 10 to 15 minutes but it's quite magical. Quite a show for the longest day.
Tonight, finally Del finishes his book. The Counterfeit Candidate by his telly friend Brian Klein. Buy it. It's brilliant…
It rains tonight, but not too heavy and soon we are asleep. Another great day in Austria.
Wednesday 22nd June 2022
Today is our last day in Austria. We think. Not sure. More stunning scenery as we make our way to the town of Imst. We try to do regular checks on the tyre pressure as we do cover a number of miles in various weather conditions and it has been extremely hot this week. We find a small garage on the way and we find the air point. There is a box on the wall, its free to use but the airline is only about 18 inches long, how on earth do you get air into bike tyres let alone a 6m van? We discover, quickly that it is in fact portable, it's sitting on an air pipe that keeps the unit constanty charged.
Simply unhook the unit and carry it around to all the wheels, connect the 18 inch line and off you go. Magic. When you are done just drop the unit back onto the air pipe to recharge it for the next user. Hayley loved this…
We are quite impressed by this but can't help thinking that if this was in the UK we would be charged to use it, it wouldn't work or someone would have nicked it!
We arrive at FINK CAMPING. Once again this campsite is surrounded by mountains, it's a beautiful place indeed. Nice pitch.
We are expecting more rain today so we just set up house and stay local, reading and writing blogs and planning where we will go next.
There are breaks in the rain and we do get some wonderful rainbows in the valley, and we also manage to go for a walk into the town.
Sanitary facilities are very important to us motorhomers and campers. We have a shower and toilet and wash basins on Jess but we have to watch the water so a good clean shower is important. This place has, without a doubt, the best facilities ever… Unbelievable. Better than a five star hotel. It looks like someone is watching and dives in and does a quick buff up each time someone leaves. We have noticed that it's a 'thing' here in Austria, clean sanitary facilities and quite right as Austrian campsites have also been the most expensive so far.
Thursday 23rd June 2022
We liked Imst and FINK CAMPING – lovely toilets.
Today we are going to Liechtenstein, so after our usual long breakfast and a visit from a local cat, which of course we have to fuss and photograph.
We pack up, do a full service on Jess and set off. As usual the Austrian countryside delivers eye catching scenery which is just stunning.
Just over an hour later we are approaching the Austrian/Liechtenstein border after we have gone through an 11 euro toll, 15km tunnel. In a blink of an eye we are through and in Leichtenstein. Easy, lots of roadworks in the area so no one seems that bothered. It's quite compact for a border crossing and is quite busy as we are on the only main road into the principality.
Today we are determined to do a bike ride. We haven't really done much, it's either been far too hot or rained, but today we think will be the day. It's cooler with broken cloud.
We drive along the main road towards the 'capital' Vaduz which is… well.. not quite as we imagined it. Not sure what we were expecting but it seems a bit ordinary and the public areas seem a bit unkempt. The drive through Vaduz itself is ok, quite charming, but considering that there are more registered companies here than the 38,000 inhabitants, it's a little disappointing.
We arrive at the only campsite in Liechtenstein, Camping Mittagspitze, which does have impressive views of Swiss mountains to the front of us and the Lichtenstein mountains behind us. Quite nice. We had to wait as the campsite had some strange rule that said the there was to be no driving around the site between the hours of midday and 2pm. How odd. We couldn't figure out why, but that was the rule.
We were shown to our pitch which was very nice and so it should be for 46 euros, the most expensive on the trip… Mad…
Once installed we get the bikes off the back and we are finally off on a bike ride, at last. We cycle a total of 14 miles into Switzerland for a kaffee and kuchen then back to Jess. It was a great ride along the Rhine and over an old wooden bridge into Switzerland.
It was hot again so the ride back was a struggle. Hayley fell off her bike, again, while stationary, again…, grazing her leg and arm while Del cycled off oblivious to what had befallen his beloved. (Time to lower her seat from what the bike shop set it at.) Oh well…
A lovely night at camp. Are we going to Switzerland or back into Austria to get Germany. No idea.
Friday 24th June 2022
We have no idea where we are going. We have had so many conversations about what our route should be, do we go through Switzerland and up into Germany or go back into Austria.
The decision has been made. We shall go back through a bit of Austria and make our way north into Germany from there, saves us buying a Swiss vignette after all. After breakfast we set off to retrace our steps back to Austria, after a small diversion through a small housing estate (thanks Google!). Today we are making for a site called Camping Weiss in Bregenz where they have a collection of hens, goats and donkeys, very important, but what it does have is a massive lake next to it, lake known as lake Bodensee at the German/Austrian end and Lake Constance at the Swiss end. More bike riding. This lake is the largest in Germany and is fed by the Rhine.
We get a warm friendly welcome and are presented with the locally brewed schnapps, and shown to our pitch.
Suddenly the heavens just open up and it rains and rains and rains… Non stop it rains. That's it for bike riding. We need eggs for tomorrow. Del sets off to find some and is given 6 local eggs for free. What a nice place!
We make use of the time. Del has some work to do when he gets back so out comes the laptop and he gets his head stuck into it for a few hours while Hayley sorts out her work obligations.
The weather is miserable but it's a bonus really as we can catch up on quite a lot of stuff that we have missed out on, so not too bad really.
There is a slight lull in the weather so we take a good long walk along the lake which is massive, it's so big and goes on for miles, it's like looking out to sea.
Dinner in tonight, the site is starting to fill up. We are promised a hot weekend this weekend. We shall see.
Germany tomorrow, or is it..?