Week 6 – 2nd – 5th July 2022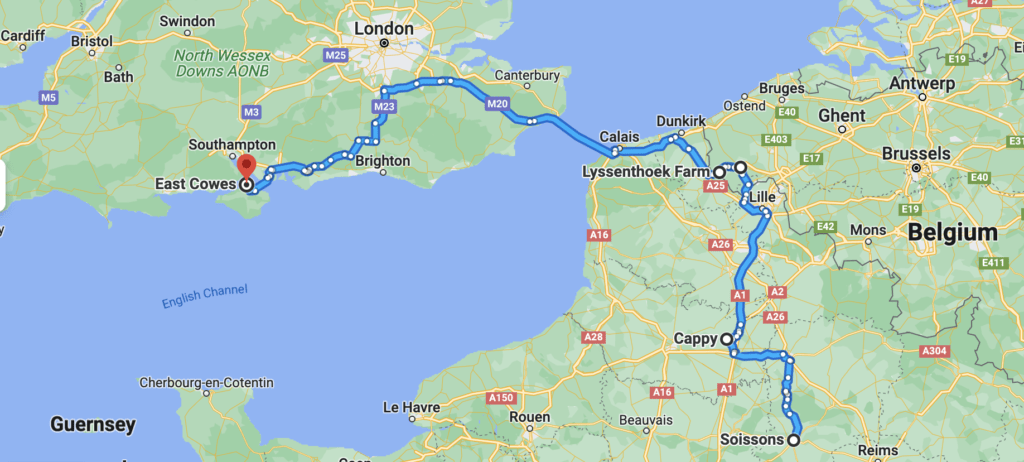 We are in our last week, a week that we have had to cut slightly short by a few days. Our other life is catching up with us and we need to get back and sort some personal matters out as well as get back to work. It's going to be a tough long summer this year, one we will miss, and living on the Isle of Wight, that's a shame. We are so grateful however that we have had the time and ability to get away on this trip, a trip that we will remember fondly.
Saturday 2nd July 2022
As soon as he wakes up Del is checking his phone for any reply or news from the local restaurant about the missing, or stolen money. Sure enough, there is a reply…
However, it's not the reply he was expecting. The feeling was that the manager would ignore the message and pretend nothing had happened or return a volley of abuse for making such a terrible accusation and to defend his staff and his own honour. That's how cynical life has become…
But no. The manager came up with a possible, and probable explanation that another customer, seeing the bag being collected from the window sill by the staff, which was put in a room behind the bar, used the staff toilets, as the customer ones were full, and took the opportunity to open the bag and take out the money. Maybe…
No matter, the manager was mortified that such a terrible thing could have happened in his establishment and requested that we come to the restaurant and collect 100 euros…!!!! How about that?
Dressed and ready we make our way to the restaurant and meet the owner/chef who was absolutely charming and apologised for the whole affair, reiterating once again his theory, then stuffing 100 euros in our hands and with a 'bonne journee' the whole matter was over.
With a smile on our faces and our faith in humankind restored, we set off in search of a patisserie and to buy some pastries to take back to Jess for breakfast before setting off.
Today we are not really sure where we are going, we would like to be in Belgium on Monday night for the short drive to Calais for the ferry home on Tuesday. Hayley sticks pins on a map and chooses various options before changing her mind. Finally, we choose a place called Cappy which is in the Somme. We have stayed there before and it was very pleasant. There is a steam railway there that was used to deliver ammunition to the front line back in the first world war, the area is quite hilly so there is a complicated collection of points that has to be switched and the train moved forward and backwards to make its way to the top of the hill. Like all things today now, money is tight and the train is now running only once a week, which is a shame. It's not running today, but no matter.
We arrive at the site in Cappy and choose a nice spot and do nothing for the rest of the day. It's hot and we have that "going home" feeling.
Dinner tonight is Hayley's mega salad of mixed leaves, parma ham, peaches and blue cheese. Amazing. We have this with some small homemade pizzas. Very nice. Very nice indeed.
Sunday 3rd July 2022
It's a beautiful morning this morning in Cappy, the birds are loud.
We have to be home on Tuesday, the ferries are booked and our days have already been mapped out for when we return. Today we are going to the Belgian town of Ypres. It was recommended to us at the beginning of this trip by the lady that ran the campsite in De Panne. It's supposed to be very beautiful and they play the last post at 8 pm every night. Neither of us has ever been to Ypres so we decide that it is worth a look, not knowing what to expect we pack up our stuff and leave Cappy for a pleasant drive. Hayley has already a campsite in mind but when we get there it's full. With her head down buried in an iPhone camper app she finds an alternative – a nice little aire (free or very cheap parking spot) not too far away. If the campsite is busy then there is no way there will be free space at the small aire.
As quick and as safe as we can we turn around and make for the aire, behind us there is a dutch motorhome following us, we know where he is going, spaces might be tight, we have to get there before him and hope that he doesn't know a short cut. The race is on. He's not going to beat us, he follows our every turn, the parking spot is in sight, quick, quick. We have to pay at the barrier, get the barrier up and get a space… When we get there we have a choice of half a dozen spaces!
It's very nice here. The spaces are a little narrow but for your 9 euros electricity is included and it's just behind a lake and a simple quick bike ride into the town of Ypres. Very good.
The bikes are released from the back of Jess and with our crash hats on and money in our pocket we are cycling to Ypres. It takes us just 10 minutes to get to the town.
The first thing we see is the Menin Gate. It's quite a stunning monument to the Commonwealth soldiers who died during World War 1. It's quite something. What struck us most was that the monument had been under attack during the second world war later, as we see from the patched-up bullet holes. So nothing much was learnt then?
We cycle through the archway of the monument to the view of the main street of the town. Wow! This is not what we expected. It's so beautiful.
The buildings are of the flemish style with stepped gable fronts. It's so clean and so tidy. We take a slow walk into the main square which has an incredible church, just stunning to see.
We walk around this wonderful town for about an hour before deciding that it is time for some lunch, but where to go, there are so many places.
We decide on 'The small townhouse' in the corner of the square where we order a beer, a local Flemish stew for Del and Ham hock for Hayley with a mushroom sauce, fried potatoes and cabbage. What a massive feast, with excellent service. The food was tremendous, very good.
We need to find out more about the monument and the Last Post. Back at the arch there is lots of information and sure enough at 8 pm precisely the Last Post is played under the arch and everyone is invited. We take our time and look at the many thousands of names carved into the stone of the walls and arch. The surrounding area is a lovely walk and gives us plenty of time to appreciate the whole thing before making our way back to Jess to chill out for a while and then come back for the playing of the Last Post.
Back at Jess we sit in the sun at the side of the van. The spaces are tight so it is a bit of a squeeze but nice all the same.
At 7:30 we are on the bikes again and on our way to the Menin Gate. A crowd has gathered under the spectacular arch and we all stand, waiting. Just before 8 three men dressed in military uniform and carrying bugles march their way to the centre of the east arch and after a few words they play the Last Post…!
Quite emotive, and very powerful. It's very sad and it's even sadder that today we still haven't learnt much. All those lives… Lost…
After the Last Post… A minute's silence…
The Menin Gate was quite an experience and powerful memory and one that we shall not forget.
We walk into town looking to lighten the mood, just a little. We find a bar that serves 25 different local beers.
Why not we think and we order a flight of 4 small beers each and some abbey cheese. It's quite a lot, 8 small glasses of beer between us and a lot of cheese! We take our first sample and click our glasses and say a toast to all those men who died so that we could sit where we are now enjoying this wonderful town. We can't and won't forget.
Back at Jess, we are planning the next and final day in Europe. Oh, but before we leave the town, we just must have a traditional Belgian waffle with ice cream…
Monday 4th July 2022 (Independence Day)
It's our last full day today in mainland Europe. We were originally going to stay at our usual Belgian site, where we start and finish our trips but Hayley has found a new one called Lyssenhoek Farm Camping. It has a collection of horses and goats and reads very nice on the internet so we thought we'd give it a go. Belgium not being a very big country it didn't take us long to get there.
The host is very nice to us, very polite and friendly and gives a nice pitch right next to the horses. Lovely and only 23 euros. Austria it's not.
The weather today is a little cooler so we take a walk to the local war cemetery which is only 10 minutes away.
There are many commonwealth cemeteries in Belgium, and a lot of men died in this area, defending small pieces of land. There is a museum attached to this cemetery so we have to take a look. All very interesting, thought-provoking and sad. We walk back to Jess talking about the whole thing, not able to grasp the enormity and sadness of the whole thing.
Tomorrow we are up early for our 10:30 ferry from Calais, so we potter around the van doing a little bit of pre-packing and cleaning up before getting an early night.
Tuesday 5th July 2022
The alarm gets us up. We hate alarms, they remind us of real life! No matter we are up and ready to go, we will have breakfast in Calais. We set off and stop to fill up with diesel at a bargain-basement price of 2 euros a litre. The drive is busy but easy as we take in the last views of Belgium and France.
Not much of a queue at Calais, which is good. We are flagged through with our van full of Belgian beer and French champagne and head for the waiting area which has this impressive new building with a huge duty-free shop, showers, toilets and a restaurant. Great, we have plenty of time before boarding to get some breakfast. However, when we get to this monument to food and retail, we find that it's closed and all that's there are two vending machines at the entrance, once dispensing coffee the other crisps and chocolate.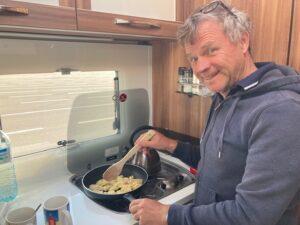 No worries, back at the van Del fires up the cooker and it's not long before we are stuffing our faces with potato rosti, fried eggs and toast, all in the Calais Port car park… We get the washing up done just in time to be waved aboard our ship to take us to Dover.
The boat is very comfortable. Being a Tuesday morning it's so quiet, no screaming kids and shouting parents. Perfect. We pay 6 pounds for two teas… Yes, 6 pounds for two tea bags and some hot water… What's going on?
We disembark at Dover, which not to put too finer a point on it is just grim. It's small, dirty, old and grey. (Bit like Del). Soon we are on the main road out and making our way to Portsmouth for our second and last ferry of the day. Within 5 minutes of being in the UK, we are stuck in stationary traffic for 15 minutes… Welcome home…
We arrive at Portsmouth with 40 minutes to spare. Wightlink loads us up and within 40 mins we are driving off the ferry and onto the Island. Home at last. It's another 15-minute drive home where we unload Jess before putting her to bed at the local campsite, clean, empty and probably just as much relieved as we are at being home…
SOME STATS FROM THE TRIP:
Countries visited: 7 (3 are new for us)
Miles covered: 2,321 miles (plus a few for getting lost!)
Toll charges: 30 euros
Fuel: 705 euros!!!
Most expensive overnight: Lichtenstein 46 euros
Cheapest overnight: Germany 8 euros
We would like to thank our family and friends who have followed us over the last 6 weeks, we appreciate hearing from you. For now, we would like to give you our very best wishes and we hope to see you soon. On a final final note, Happy 50th Birthday to Sarah & Liz, Hayley's school buddies. Bless…