Week 4. 8th to 15th July 2023 – Port Lesney to Home. 780 miles.
Saturday 8th July 2023 – Port Lesney to Savigny-lès-Beaune. 65 miles.
We are truly making our way back now that we are into the last week. It has gone very quick.
We didn't sleep very well last night. We ate too much, and drank too much and it was very hot overnight. 28 in the van, the lower 20s outside, and the frogs in the river kept Del awake! It's a cloudy morning this morning but expected to clear up. It's already warm. We packed up last night, no breakfast just coffee and off we go. They want more money from you here to do a service so we decide that we can make do.
By 11:00 am It's already 31 degrees. Today we are setting off for a free overnight place right by the canal where we can get the bikes off and go for a good long bike ride. We like the river and canal stops, there is always somewhere to cycle. Hold on though. Today the temperature is expected to get to 33 or 34 degrees and the stopover has no shade. We do a quick re-think and Hayley finds us a nice shady campsite next to a stream. Off we go.
A new route is plotted! Despite the heat, we have a lovely drive through the French countryside. It is quite beautiful in parts. Our route takes us through some very charming towns and villages, one of which is having a parade to celebrate their local fire station?!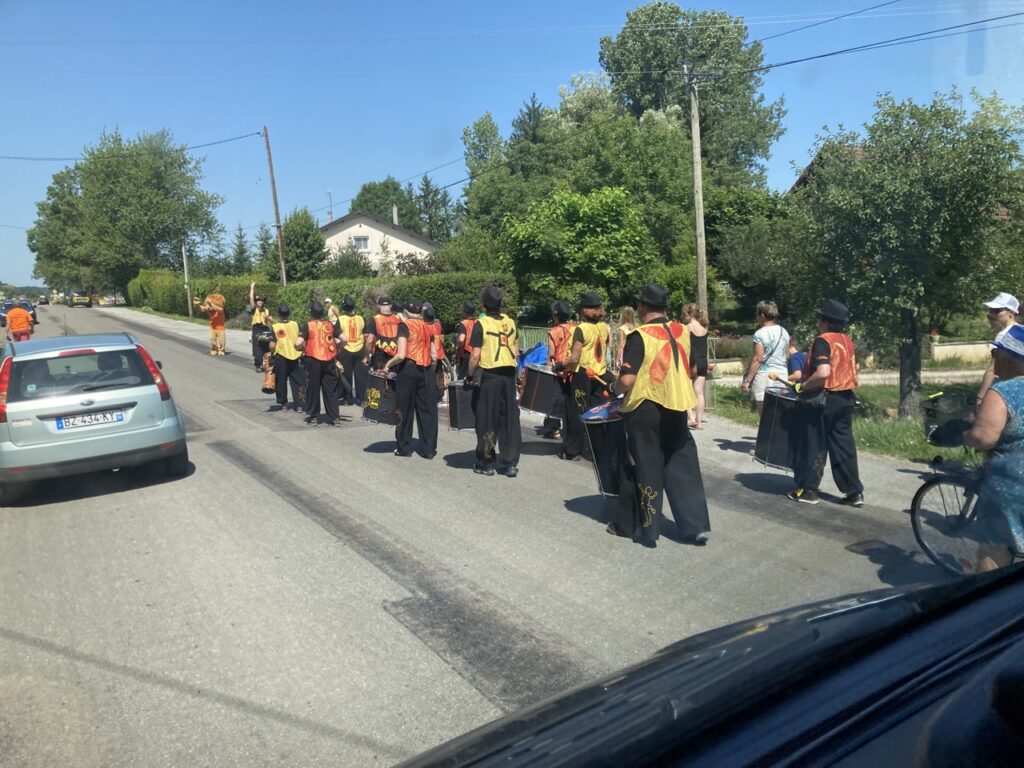 Jess is not looking her best right now. She badly needs a wash. We find a newly opened place that allows camper vans to not only wash your van but there is a platform for washing the roof! 20 euros later, yes 20 euros,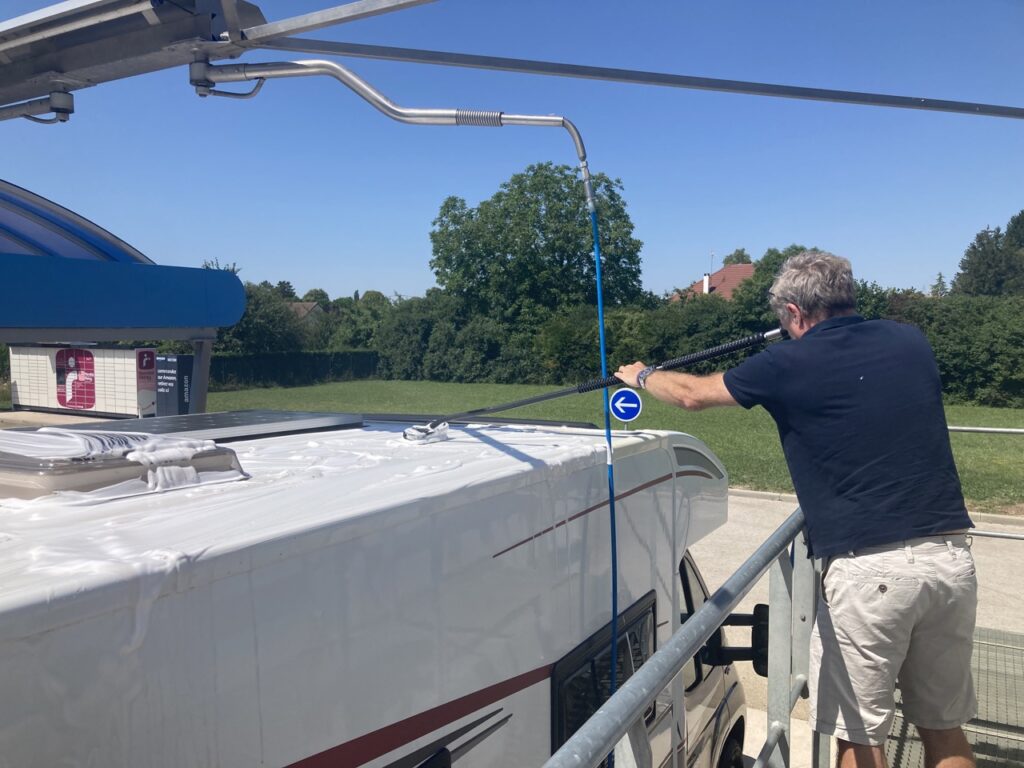 Jess is looking like new. It was dear but well worth it. You brush on a hot mousse then a proper powerful jet rinse followed by an anti-streak rinse. She rolled out looking like the day we bought her!
Proud of our shiny clean van we trundle off down an empty motorway to Savigny-lès-Beaune which is just south of Dijon. The site we are going to will allow advanced bookings so while Del drives, Hayley is making a reservation, which she just finishes as we park up outside the site.
We are let in and given a very nice shady spot. No electricity today so we are on the solar panel which will see us through especially today with the wall-to-wall sunshine. It's hot all over Europe today. Tomorrow we are going to Chablis which has a temperature today of 36 degrees!! Murcia in Spain, 40 degrees. It's far too hot to do anything today so we sit by the van. Hayley plots our route for the next few days, Del does the blog and spot cleans the van. (He's proud of his van).
This is the campsite with the running stream behind us. Guess what? It's not running anymore. It dried up just over a month ago.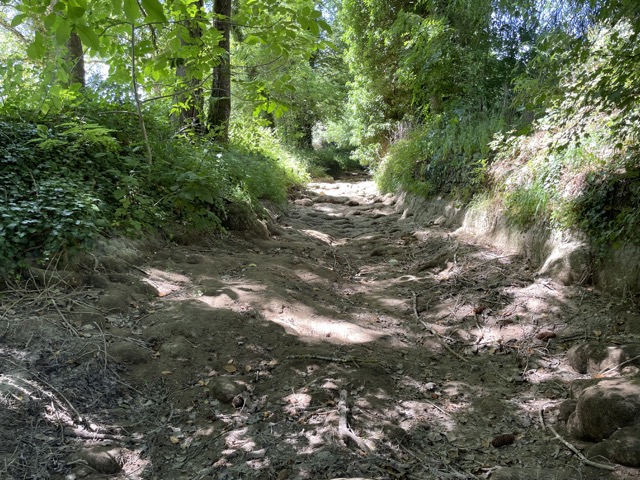 It's bad to see, it really is bone dry and it's only recently happened.
Dinner tonight was a simple salad, Hayley's van salad followed by some blue cheese and honey with a slug of port.
It's hot tonight!
---
Sunday 9th July 2023 – Savigny-lès-Beaune to Chablis. 84 miles.
It was so hot in the van last night, we don't think it dropped below 30 until about 5:30 am. we slept well though, when we woke up it was certainly cooler. Today we are going to the town of Chablis. We have been there before, once when we hired a van to see if we would like it, and again with Jess on her first European outing 5 years ago. It has a great campsite there and town is lovely to walk around.
After some boiled eggs, toast and coffee, we pack up, do a full service and off we go, via a supermarket for some supplies. At 11:30 in the morning, it's already 35 degrees! Hayley is at the wheel, but because she gets bored on motorways, we swap over. We run into a few heavy showers of rain but nothing major. We are on a toll road for the most part, and when we exit, it costs us 14 euros! The toll motorways here in France are expensive but they are excellent. They are clean, spacious, and well maintained with hardly, if any, roadworks. They just work.
We are returning to the same campsite which has now been taken over by 'pass etapes'. We like these sites, they are online so you can see, live, how many spaces are remaining. Pay for the premium service and you can reserve a space. We arrive with 12 spaces remaining. We choose a nice shady spot and set up for the day. It's a lovely place, very calm and peaceful. Once set up we lock up and walk into town. Being a Sunday most of it is closed, but we do find a 'Cave' sampling and selling… Chablis of course.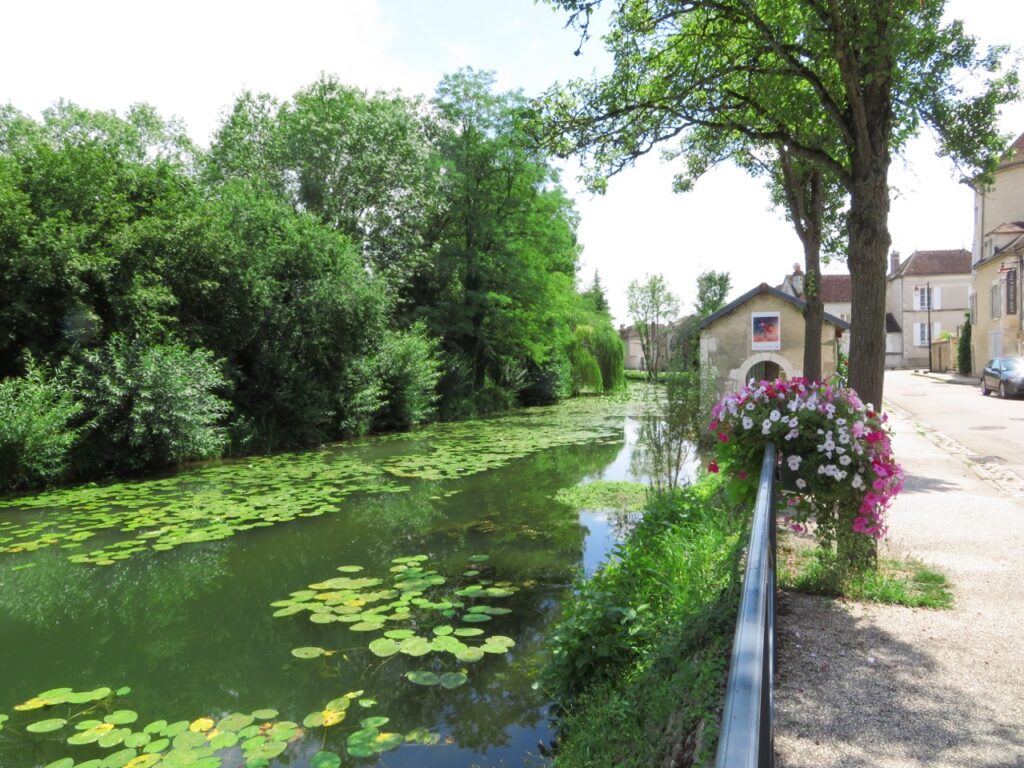 It's a lovely cool and dark place with a young chap behind the counter who is more than accommodating as we sample 4 Chablis and walk out with the same, one of which is 2018, the last time we were here with Jess!
Very nice. Poor fellow undercharged us, but we did fess up, he was so pleased that we owned up to the error that he gave us a very nice corkscrew. Which was nice.
The rest of that afternoon is spent at the van, reading and chatting away while we enjoy half of one of the Chablis. Very nice. What a way to spend a Sunday afternoon! It's late now but we get stuck into another EXIT game.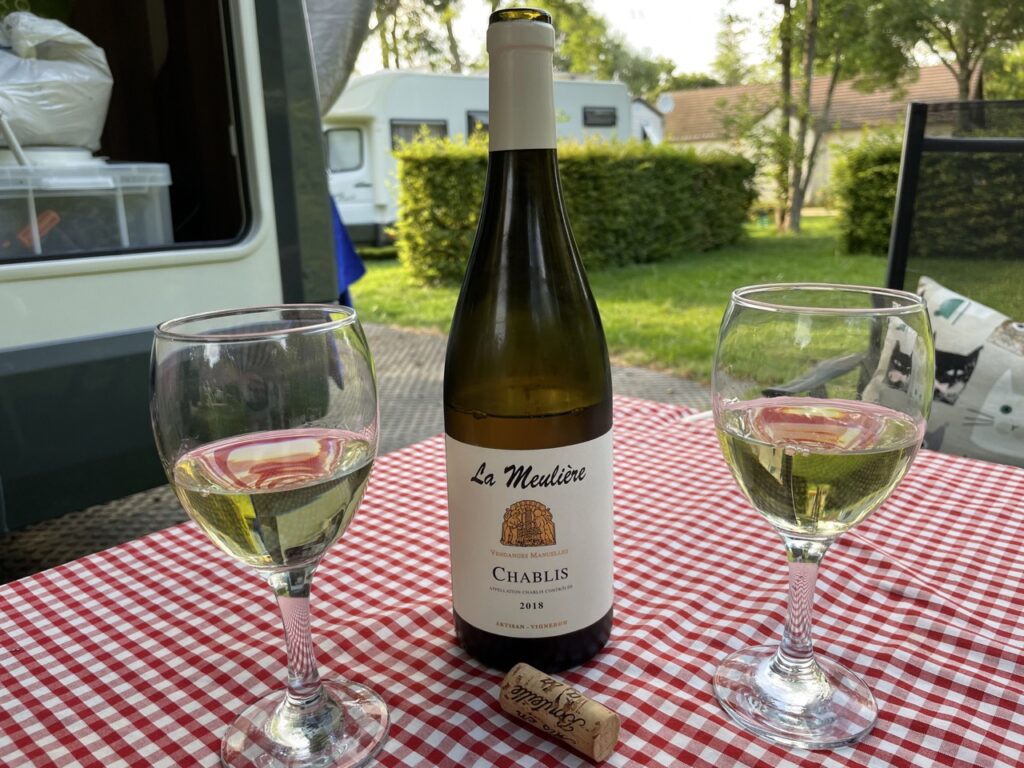 We like these. They are a great way to kill a couple of hours. The game takes nicely up to dinner of steak and chips with a pepper sauce and a nice Bordeaux. There is not a breath of wind and it's a warm balmy evening. A perfect way to end a busy week!
---
Monday 10th July 2023 – Chablis to Sergines 66 miles.
The van was like a hot box again last night, but we managed to sleep with the help of our small 8-inch fan. Today we are going to another place that we visited not only on our trial trip but also on Jess, to Saint Julien du Sault. It's a small town almost in the middle of France near Auxerre.
Before we set off we take a short walk into the town and to a typical French bakery for pastries, namely 2 croissants and two pain aux raisins.
We take them back and have them back at the campsite with Jess with fresh coffee. It's a very fresh morning but we can feel the heat building. Off we go, it will take an hour to get to Saint Julien and the roads are quiet, eerily quiet. It's 11:00 am and already it's 27 degrees.
We arrive at the free overnight spot which has not changed in five years. We lock up and walk into the town. It is just your typical, classical French town but there is no one about. It's very strange, everything is closed and we are the only people walking about. It's a nice town and you are done walking around it in about 20 minutes so we head back. We have made the decision not to stay and instead set off and find a campsite.
Hayley gets to work finding us a place and comes up with a campsite called Camping Beauséjour or Camping Beautiful Stay. It's another 30-minute drive which is fine. An easy drive through some beautiful countryside, as usual, to the campsite. We arrive and Hayley calls the lady running the site, a very friendly lady who once she has taken 20 euros for the night opens the barrier and allows you in to park wherever you like.
It's a wonderful place. There are small park homes around the perimeter and the middle is free for motorhomes. The pitches are huge and very private. We choose one and get settled in. What a place. We have the whole site to ourselves but can't believe or understand why. Granted there is nothing in the surrounding area, no walks or bike rides, the town is small, but it is so peaceful and so tranquil. On the camping apps, it gets fantastic reviews and is highly rated. It's located just 70 miles south-east of Paris. What a find. We love it.
We have a cold beer under the shade provided by the trees.
There is a washing machine here so we get a pile of laundry done for just over 3 euros, and get it out to dry. It's van clean day again, so the van is aired, stripped and cleaned out. Once all the work is done we spend the rest of the afternoon sitting in the shade and just relaxing in this wonderful place. We are wondering though if we will get more visitors for the night. We shall see.
Dinner is outside and what a lovely evening it is too with just the sound of birds and distant combine harvesters.
It really was a lovely evening, staying out until gone 10pm reading and chatting. A lovely day followed by a lovely evening.
---
Tuesday 11th July 2023 – Sergines to Epernay. 74 hard miles.
Not a cloud in the sky this morning, fresh air, birds singing. Lovely. We should have a nice relaxed breakfast outside again and have a leisurely morning. Not likely! Hayley has found a campsite in Epernay, "champagne central". There is a municipal campsite on the banks of a river with cycling into the town, so like grease lighting, we are packed and off as campsites in France have a habit of closing early for lunch and not opening until late afternoon, so no breakfast, we didn't even brush our teeth, we are packed, Jess serviced and off…
It is a long hard drive today. We only have to go 70-odd miles to Eperney, but there are no motorways just "A" and "B" roads and some of those are questionable. Hayley is at the wheel today. She has it all under control, but having no breakfast she is desperate for the loo! Too bad. We want to try and get there before midday if we can. We have been diverted en route because of roadworks but we do arrive at the campsite at 11:55 am only to find out that they are open from 8 in the morning until 10 at night! Typical. We are also the last van in. While Hayley is in the office paying, a chap comes out with a board saying "COMPLET". We made it. Just in the nick of…
We get a nice spot in a corner, get the bikes off the back and set off for a nice cycle by the river into the centre of Epernay, the champagne capital of the world. Well, it is not to be. There is no cycle track along the river to the town, so we have to take to the busy roads in the 32-degree heat, navigating the heavy traffic and the roadworks.
5 years ago we came here in Jess and we left because of roadworks, they are still at it. It's a mess…! We finally reach the Avenue de Champagne.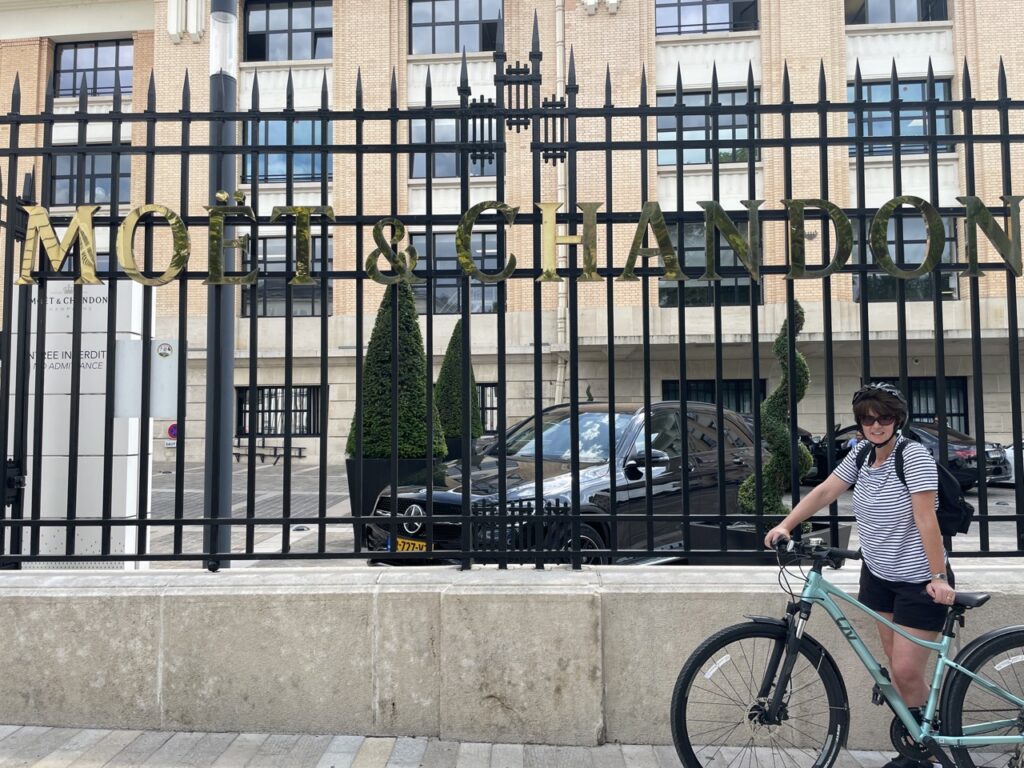 This road is the most valuable road in France, more so than the Champs Elysee in Paris, because all of the big-name champagne producers are on this road with a complex tunnel network underground storing their champagne. Mercier champagne has 18km of wine cellars and that's just one producer. Some of the houses offer tasting in nice ornate gardens, but the price for a small glass is just outrageous!!!!
They make it here!!! Sure they don't want to give it away, people will just take advantage, but having a system of cheap first glass and subsequent glasses may be more expensive.
Del especially loves champagne and has sampled many types from cheap as chips to the most expensive, but he's not impressed with Epernay. It's "poncey" in his words. Champagne is a drink to be enjoyed by anybody and everybody, but here in roadworks filled Epernay they are just taking advantage and ripping people off. Oh, and it starts to rain as well, Nice.
We did have a very nice cycle through the park that lasted all of 1 minute, it was very nice but very short-lived. We've had enough and cycle back through the roadworks and the traffic back to the site just in time for dinner.
Epernay…? Drive on… (Get your champers from a good local vineyard or just go to Waitrose!)
There is a nice pop up restaurant here on the site, Hayley reserved us a table in advance so we are the first in and on time. The service is ok, the setting is wonderful, right on the banks of the river.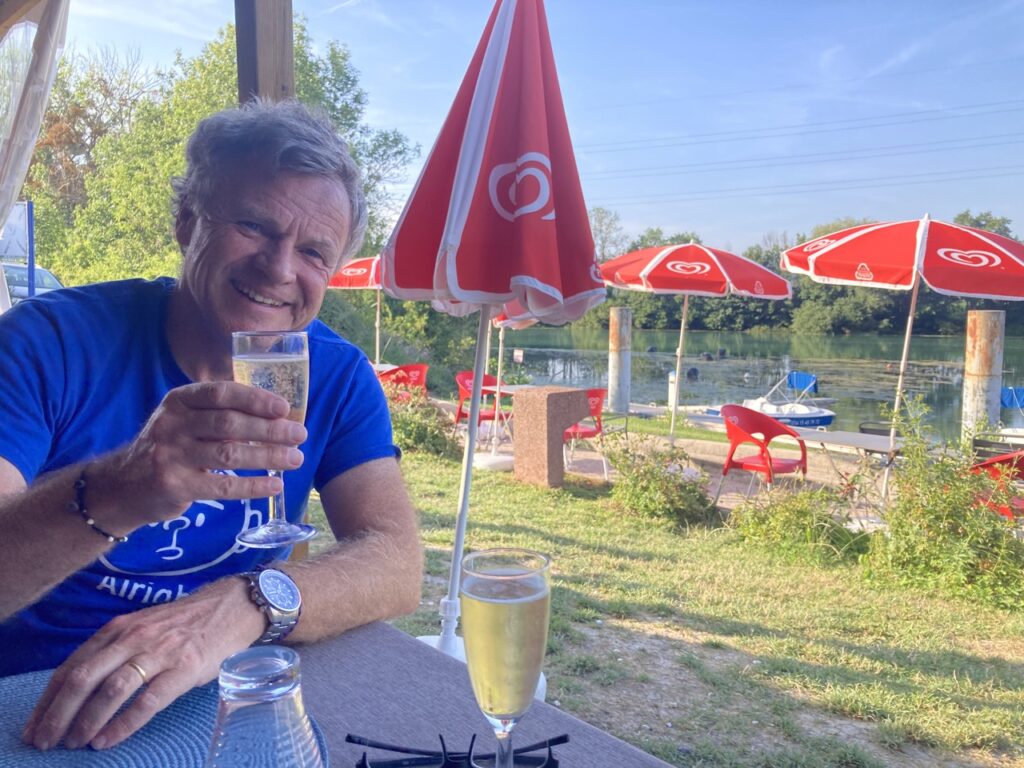 The food is excellent, but as the place starts to fill up the service just goes downhill, with many people waiting a long time to be served, get a drink or pay. Bad… no matter, we were in first, got seen to, ate, enjoyed and left…
---
Wednesday 12th July 2023 – Epernay, France to Reutenbeek, Belgium. 171 miles
Last night was the hottest night so far, for Del anyway. The last couple of weeks have been very hot in parts of France. Today we are heading north to a paid overnight stop called Vireux Molhain, and this will probably be our last French stop. After we get packed up we set off after a quick van service.
Hayley has thrown a spanner into the works. There is a theme park going north, Walibi Belgium.
Just when Del thought his bag-carrying days were finally over, it would appear that we are going to another European theme park. Great. After a quick re-routing, we are now heading towards a campsite near the town of Reutenbeek in Belgium just southeast of Brussels. It should be interesting as it's a part of Belgium we have never been to.
Del's at the wheel today, it's a pleasant drive as we see the last of the lovely French countryside pass us by, the weather is pleasant and the temperature is much cooler today. Very nice. We see the blue square with the ring of yellow stars ahead denoting the border between France and Belgium and instantly the roads change. For the very worse…!
Without any doubt, and with no offence intended, Belgian roads are just the worst roads in Europe. A combination of slabs of unsealed concrete, potholes that have been filled in multiple times, and deep cracks in the surface just make the whole experience shocking. Bad though, so, so bad. The van is getting rattled, bumped and shaken for about an hour and a half. A terrible trip. We have bad roads in the UK, but these roads here beat the UK hands down. We have mostly driven around the west part of Belgium where the roads are again a bit 'iffy', but here, south of Brussels, they are much worse,
Finally, finally, we arrive at the campsite, Camping Druivenland which is basically just a large field where you just pitch where you want, after you have paid a rather heavy fee and then they would like you to pay extra for wifi and showers. Fortunately, we don't really need any of that, we have a shower on board and we just use our mobile for wifi access. To be fair it's actually not a bad place.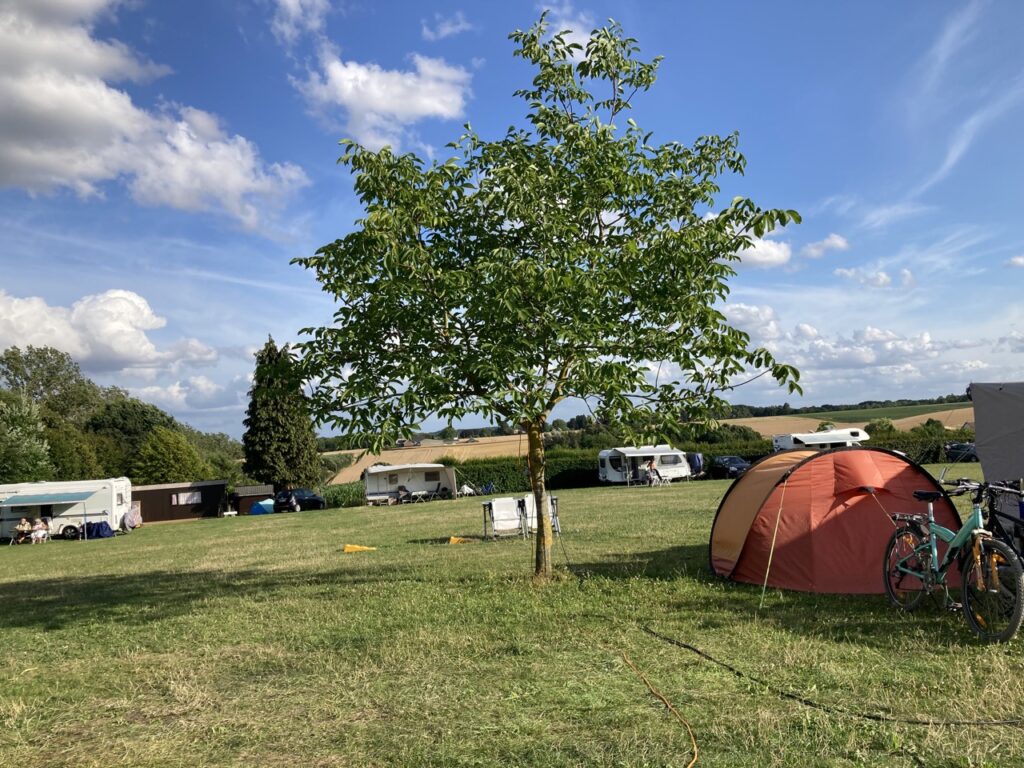 Yes maybe a bit pricey on what we have been paying over the past few weeks, but it's peaceful and not too bad at all. The only reason we are here is because it's a ten-minute drive to Walibi Belgium.
Tonight Hayley did a very special pasta dish made from scratch, her lovely Spaghetti Puttanesca. Very nice, served outside in the cool summer evening. The rest of the evening is spent with Hayley scouring the internet for reviews about the theme park and Del trying on the bag for size. Again.
---
Thursday 13th July 2023 – Reutenbeek to Poperinge. 131 miles.
A cool fresh cloudy morning this morning. A marked change from the hot steaming weather of the past few days, but a good day to be traipsing round a theme park. Great, thinks Del to himself. Can't wait. Hayley has us ready to go at the gates for opening at 10am. She is straight onto the 164ft tall main coaster called Kondaa, and has soon done 3 goes on it.
As usual Del is carrying the bag, but now has a new addition of Hayley's coat. She does like a theme park and is soon quickly walking between all the different rides, getting in the queue and being hurtled around at high speed. She loves them. Her interest in rollercoasters was rekindled in Todtnau, Germany 4 or 5 years ago. Got to have a hobby! It is a nice park Walibi Belgium, they have another in Holland called, surprisingly, Walibi Holland. The European parks are done very well, spacious, clean and with a good selection of food and drink, even for Del, they are quite good.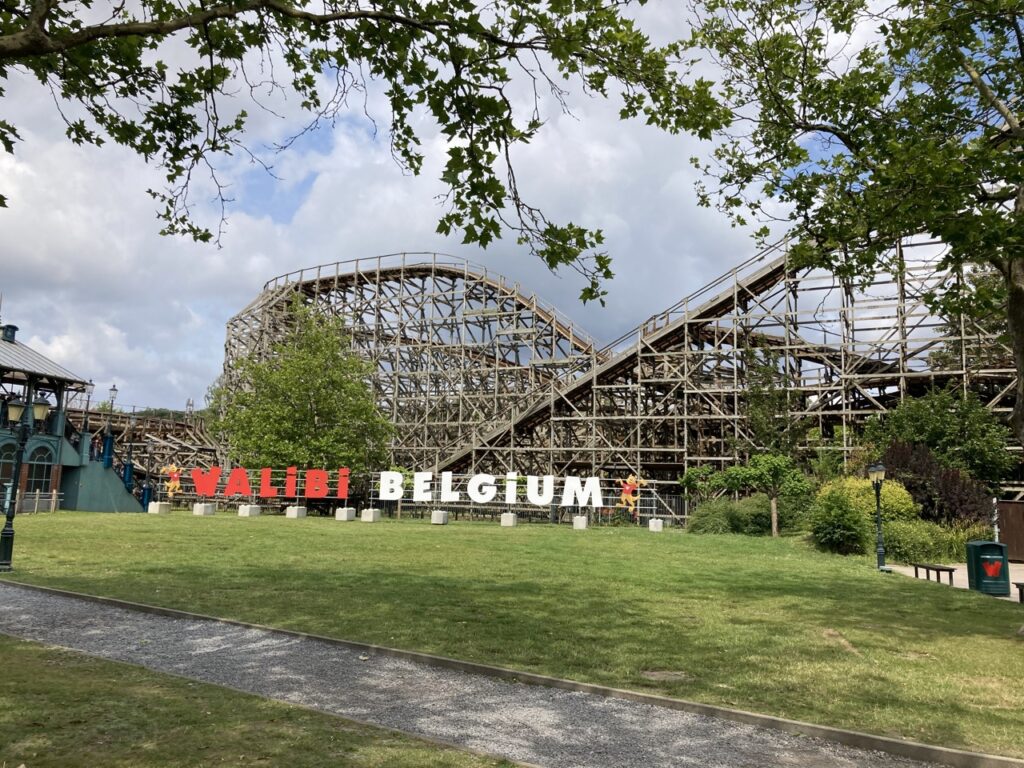 By 1:30 her brain has been rattled around long enough, and exhausted she decides that she has had enough and we can get going.
We leave Europe on Saturday morning for the UK so we like to get ourselves as close as possible to the ferry port, just in case.
Today we are heading for what we consider now our 'second home', Poperinge at the campsite/ farm Stal t' Bardehof. We thought that we might go back to France for one more night then Belgium for our last night but in the end, we decide to just go straight to Belgium and spend two nights there. The ferry will be just 40 minutes away.
It's a long drive today though, 2 and a half hours made up of dodgy Belgian roads and motorway. We want to stock up with some French wines first to take back home so Hayley is trying to find us a route that will take us briefly into France to a supermarket then back into Belgium. It's proving to be difficult without burning too much fuel and time so in the end we just stop at a big supermarket in Belgium.
Hayley leaves Del with Jess while she makes her way into the shop arriving a good 40 minutes later with half a dozen boxes of mixed wines which we have to try and store and survive the journey home. All shopped out we finally get going again and just before 6 we arrive at the farm in Poperinge.
We get a nice welcome from the lady there, who shows us to our spot for our two-night stop.
Once parked up we waste no time in going to the bar for two cold Belgian beers and a rather hearty dinner. A quiet night back at the van. It's cold.
---
Friday 14th July 2023 – Poperinge – Day 2 (last day).
Today we will do a de-prep of Jess which involves packing most of our stuff into bags, clearing and cleaning out cupboards, bagging up clothes etc. It just makes the arrival home quick and easy, we can get the van back into storage, do the laundry and have a quiet night back home.
The rest of the afternoon is spent bashing emails backwards and forwards to the UK. We are trying to buy a property and just as we think we are getting close, we come across another 'issue' that needs our attention, and of course, when solicitors are involved you can always rely on them to be slow, late or get it wrong, most of the time it's all three!
We are now semi-packed so we get on our bikes for the last time and go for a 6-mile cycle. It's a lovely evening, a bit windy, but after all the sitting about this afternoon we are glad to be out and it makes us feel much better.
Tonight we will eat at the farm again, and again another hearty feed with a generous helping of Belgian beer. They do know how to do it here. Delicious.
The alarm is set and we are in bed relatively early. Tonight though it's hot again. There is a heatwave in Europe that is spreading north. Guess it has reached us.
---
Saturday 15th July 2023 – Poperinge, Belgium to Home, East Cowes, UK. 230 miles.
We are woken up rather sharply at 05:45 this morning. We have a ferry at 08:00 from Dunkirk, so no breakfast, no coffee, just get up, shuffle a few bags around and we are off. It's a 40-minute drive from here in Poperinge to Dunkirk. It's a lovely morning for our trip back home. Thankfully an uneventful drive to the port and onto the boat having had our passport checked twice and customs climbing aboard twice as well. The only thing they will find on our van is half a dozen boxes of wine and a box of champagne!
Once we are in the belly of the ship and secured we eyeball a different camper van which is basically a caravan, spun around and mounted on a van chassis. We make our way upstairs and get a full English breakfast and coffee. A very pleasant crossing, not too busy, lots of Germans. An hour into the crossing it does start to get a bit 'bouncy'. High winds are forecast which are forecast to be even higher on our Isle of Wight crossing. We shall see. Hayley staggers (because of the bouncy sea and not through drink) to see what's in the duty-free shop and returns with a bottle of gin and Cointreau for only £25. Bargain.
---
In Summary
Some stats for this trip:
Diesel: 396 euros
Road Tolls: 95 euros
LPG: 5 euros
Total miles covered: 1700 miles (approx. We got lost a couple of times!)
This has been one of our shortest Jess trips, three weeks and some days. Whilst it has been short it has been very enjoyable. We have visited some lovely places and tried lots of interesting food which is what our trips are all about. We are not adventure seekers, but we do like to see and feel as much of the local areas as we can. We loved the French Alps region, so much that we are already planning our winter trip which will be across Belgium, down through Germany to the Swiss Alps, back out through the south of France then from there pop into Spain and make our way down some of the east coast until we run out of time and have to turn around. That's the plan, but you know what they say about best laid plans!
We do really enjoy going to Europe. It's a great place, with so much variety and interest. Like the UK they have the same problems, not so high inflation, but shopping for food was expensive, and fuel is more or less the same as in the UK. The biggest difference we noticed was mobile phones. Hi-speed internet reception almost anywhere, even on deserted mountainsides and in long road tunnels. In the UK it seems that if you just walk down your own street you will get cut off. There is something wrong with mobiles in the UK, that we definitely noticed.
Jess does need some new tyres now. Hayley has been putting in the research and the decision has been made. We will get them fitted a week or two before we go away again in December.
There are also a few odd jobs that need doing on the van. Del has a list and will start on those in a few months. Nothing pressing, just general maintenance and up keep. We like to keep her in tip top condition, mechanically, inside and out!
In the meantime we now need to get back to work. It's going to be a busy time for both of us now until the end of the year so we need to get our heads down again.
Thank you so much for following our journey, we do appreciate it and we do like to get your comments, and with that we would like to say cheerio for now, thank you and very good health and happiness to you all.
We have done over 22,000 miles over 5 years, and too many Belgian roads, so it's definitely time for the tyres to be changed. We have opted for the Michelin CrossClimate Tyre. We did think about the Goodrich BF All Terrain to give her a more aggressive look than she has already, but after looking at the pros and cons. We don't do a lot of off-roading and the Michelins give better fuel efficiency, are quiet on the road and are designed for the correct load rating, so there you go. They are also 3PMSF rated, so good for snow, and ice and legal for the European mountains in the winter.
Is it us, or has the Michelin man lost a lot of weight over the years?
See more about the Michelin man and how he has changed over the years.