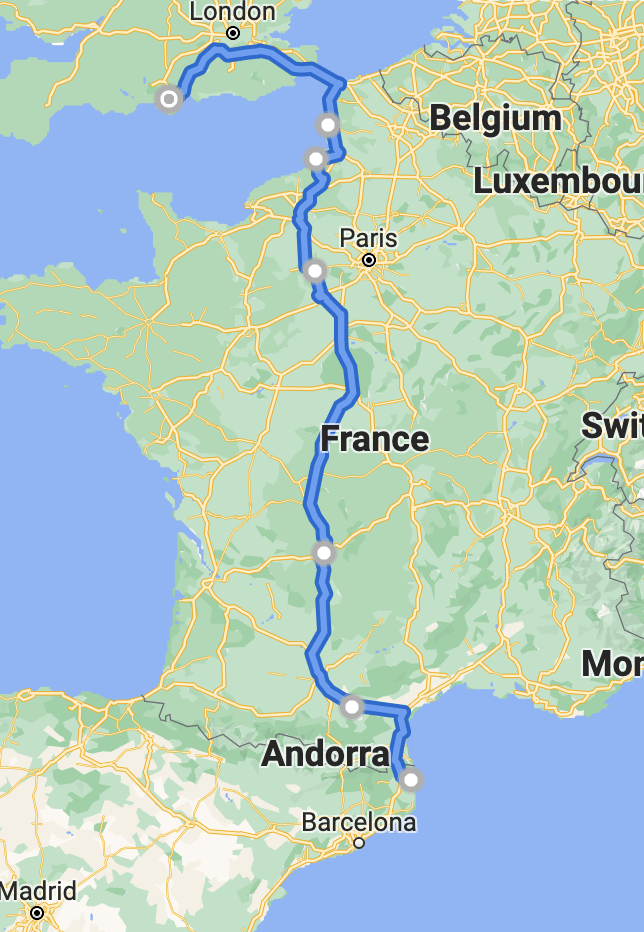 All good things have come to an end!
EMPURIABRAVA TO HOME 980 MILES
Miles travelled for this WHOLE trip: 3582 miles
Toll costs: 83.6 euros this week
Fuel Costs: 197 euros this week
25th January – Empuriabrava, Spain to Villasavary, France 131 Miles
The temperature last night was -3 degrees. This morning it's about 0 to 1 degrees with heavy grey skies. It is supposed to clear up by midday to around 14 degrees. Today we are crossing the border into France. Today is Tuesday and our train to the UK is on Sunday morning so we need to think, at least about making our way back into the much colder weather. Sad but there it is. All good things come to an end. It's not quite over yet though we still have six days to go and there are always things and places to see and visit so we will make the most of it while we can.
Just after 10 we have had breakfast and cleaned up, checked everything and we are off.
It's only a short 20-minute drive to the AP7 north, over the border, and into France, which happens almost without us noticing. We got a very short and quick glimpse of the European sign saying FRANCE. From us leaving our pitch in Empuriabrava, Spain within 30 minutes we are in France and nobody said anything!
The weather is improving every minute and by the time we arrive at our spot in Villasavary we now have clear blue skies and a balmy 13 degrees. It's nice and warm as we sit drinking tea at the side of the van basking in the mid-winter sun in France. Brilliant.
Again Hayley has found us an excellent spot just outside the town of Villasavary. It is part of the Pass etapes.
You simply drive to a barrier, pay 10 euros by card and drive into a well-groomed, safe place that has everything you need, freshwater, greywater dump, and toilet dump. Free wifi and electricity are all included. The location of this one is superb. Peaceful, tranquil, surrounded by trees and fields. Amazing.
Around 3 pm we take a walk into the town which is just under a kilometre away. We go the long way taking in some of the beautiful countryside here. This is a lovely place for sure. The walk does us good and sharpens our appetite for dinner. Our first in France heading back home.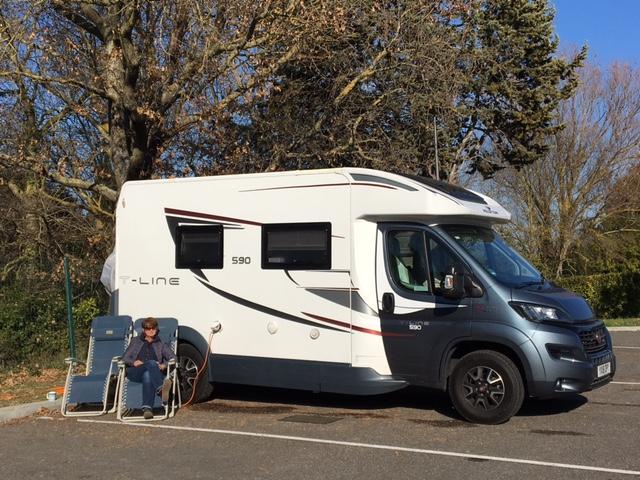 Smashing dinner on board but with an early appetiser of anchovies from L'Escala Spain and a difficult to open bottle of cava.
26th January – Villasavary to Donzenac 171 miles
Cold this morning but what a fantastically blue sky. Today we are going to Donzenac which is in the southeast corner of France. Donzenac is a medieval town on a hill but it also has a 24-hour pizza vending machine in the car park of the local supermarket. We have to try it!
We set off, a little later than we expected, but we are off. Fully serviced. The drive is wonderful.
France is a massive landmass and has some wonderful countryside and today's drive is fantastic. It's cold as we drive through some dense local fog, the temperature goes up and down like a bee's wing.
France is expensive. Very expensive. The motorway tolls are pricey and at the moment, here in France, diesel is very expensive. We paid 34 euros in tolls to go 171 miles and 41 euros for 25 litres of diesel… Watch out!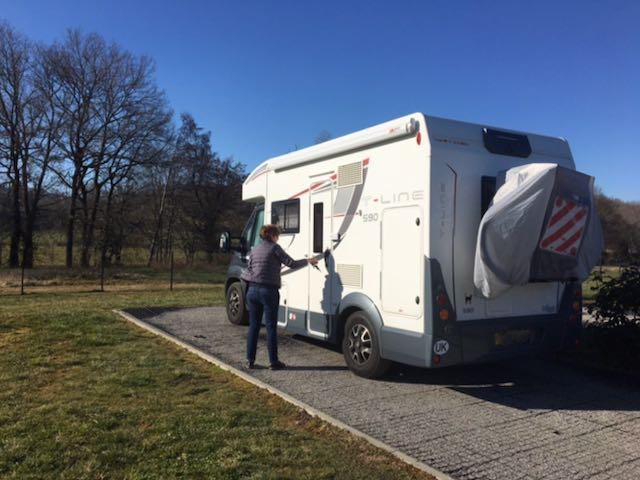 We arrive at the site which is run by the same company as yesterday, we turn up, swipe a card and choose a spot.
Everything is here, freshwater, greywater dump etc. Perfect. Full of excitement we get parked up, locked up and make for the supermarket with the 24-hour pizza vending machine… What! What's this…? It's gone!! It's gone and been replaced with a pizza stall, very flash with a flashy menu but no indication about opening hours. That's progress. We've gone from a self-service 24-hour pizza making machine to a portacabin serving pizza with no clue when it opens. H is furious.
They do have a 24-hour bread vending/baking machine here as well which we try but we soon discover that you need a qualification in computer coding and have a first in AI from Oxford… We give up and go into the supermarket and buy a stick of bread, the best camembert that we can find and some duck pate. Sometimes the old ways are the best ways. Use a shop!
Back at the van, we have a traditional French snack with the above and a glass of red in the afternoon sun. Excellent.
Del is off to explore the local medieval town of Donzenac which is quite something, with a church on a hill, twisty streets of houses that have so many bulges and leaning so much so that if you are a surveyor here, you'd make a fortune.
Back at the van, H has it all cleaned up and warm as the temperature is falling sharply. Tonight we are expecting -5 degrees!!! It's so warm and comfortable in the van, with a freshly changed bed and a glass of wine we will be safe and warm tonight. No worries.
27th January – Donzenac to Dreux 285 miles
Yep, it was cold. We didn't feel it in Jess but it was -5 degrees last night… In fact, by 9 am it hadn't got much higher, a tropical -4 by the time we left at 10 pm.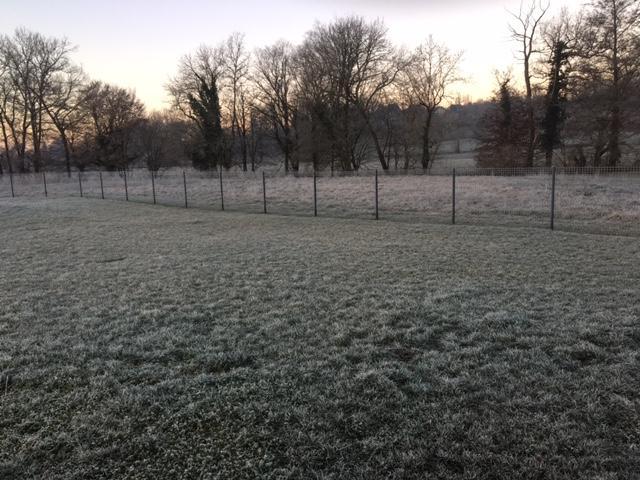 Today we planned to go to a place called Vatan. Only about two hours but the weather there is a miserable -1 all day and -4 at night, plus there is not much to do so when we set off we just decide to keep going… and going… and going. We have decided that we will stop at Dreux.
So breakfast is done, we fill up with fuel, fresh water and empty the grey water tank and off we go. The start of our journey is wonderful. Yes, it's cold but the sky is a deep blue and the countryside just looks amazing. The first couple of hours is just fantastic as we pass fields and trees just covered in thick ice, against the blue sky it is quite something to see.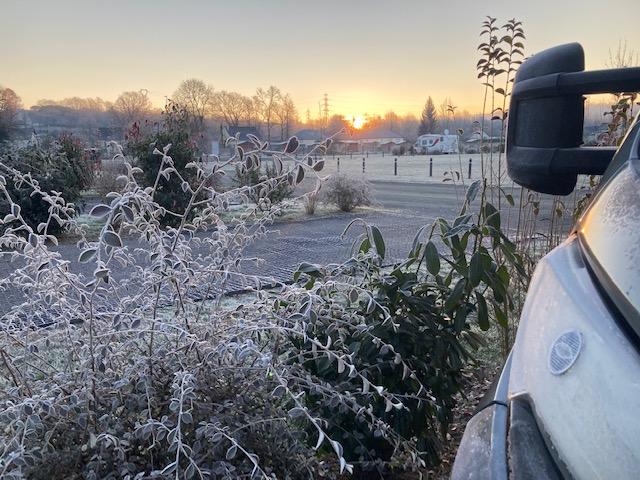 On the way, by the roadside, in a supermarket car park is another pizza vending machine. These things are becoming quite popular in France and have always fascinated us. There are two types. One will mix the ingredients from scratch and bake it and the other takes a pre-made raw pizza from storage and bakes it in 3 minutes. Pizza restaurants usually make up the pizzas and stock the machines. We have found one of the latter. You can get a hot pizza in three minutes (or a bake at home version in 30 seconds). We select our 'montagne' pizza and wait the 3 minutes……
Surprisingly it's very very good. Hot, tasty, quick and in a box ready to go! All for 11 euros. Bargain.
We have achieved a 'dream' and now our pulses have calmed down it's time to move on. We have a good couple of hours in front of us to do.
Dreux is an industrial town just east of Paris. we call it dreary Dreux as we have gone past it several times and it looks… well, dreary. However, if you look it up on the internet it actually has a very nice town centre, it's just that the by-pass is full of industrial estates which is where our stop for the night is! Yes, we are in a camping aire at the back of an industrial estate in dreary Dreux. No matter, it's time to stop, it's been six hours. This will make our last two drives very much shorter. We plan to drive across to the Atlantic coast then north to Calais for the Sunday Eurotunnel and home.
28th January – Dreux to Le Treport 121 miles
It's cold and damp here this morning in Dreux. 4 degrees. We set off. It's busy on the roads. The area we are in is full of industrial parks, warehouses and factories. It's chaos but we finally get through it all only to end up in a dense fog. Bring back the Costa Brava. We are heading for the Atlantic coast today. Two stops, One in Le Treport and the last day in Merlimont. We will have done two seas.
We are approaching the town to get to the pitch which is high up on the cliffs at the back of the town with a view of the Atlantic. We have to follow a diversion, but it's a diversion to nowhere! We end up in a part of town with a width restriction but helped by the police where we have to turn around and go back the way we came. We make several attempts to get to the chosen pitch but in the end, we just give up and H finds us another one, next to the port. A pleasant stop as it happens, and once in we take a good walk along the prom to where all the restaurants are located. There are many to choose from but as is the French way there is no clue as to when they are open. Oh well, we will take potluck tonight when we come back for dinner.
It's a cold but nice day, the sun is out and we take a walk around the old lighthouse and the beach. A walk back to the van for an hour or two before dinner means that we have more or less done our exercise quota for the day. Just.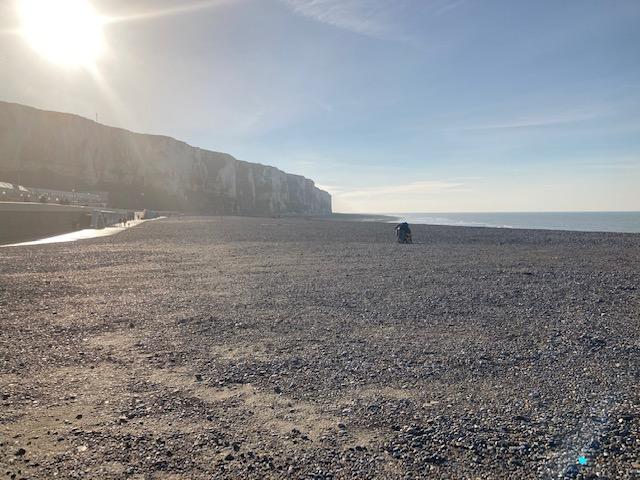 Time for dinner. It's colder now and we are not really dressed for this change in weather. We do a quick walk back along the prom, most of the restaurants are now open and we take our time to choose one. They all seem similar to each other in what they have on their menus. It's a tourist town for the French in the summer so it's all a bit of a muchness. Finally, we choose one. After some mussels and chips and the local dish of Ficelle Picarde (or "Picardy String") along with some Sancerre, we head back to our house on wheels. It's so cold!
29th January – Le Treport to Merlimont 52 miles
We have a nice but chilly stay in Le Treport, dinner was average! Now for our last full night's stop of the trip before home with a stay in the town of Merlimont. We wake up to rain and a bit of wind. On google maps satellite view the town of Merlimont looks great, right by the sea, lots of local eateries and so on. A typical French seaside town. On route we give Jess a wash, she is so dirty after the long drives in fog, rain and frost. It's a half baked affair as we are short of change for the machine. We make do and she looks better for it.
Merlimont! Mmmm. Well, not quite what we expected. The town is built in an American style grid fashion. All of the restaurants are closed, none of the shops are open and we are the only two people on the streets! We can't quite understand what's going on here.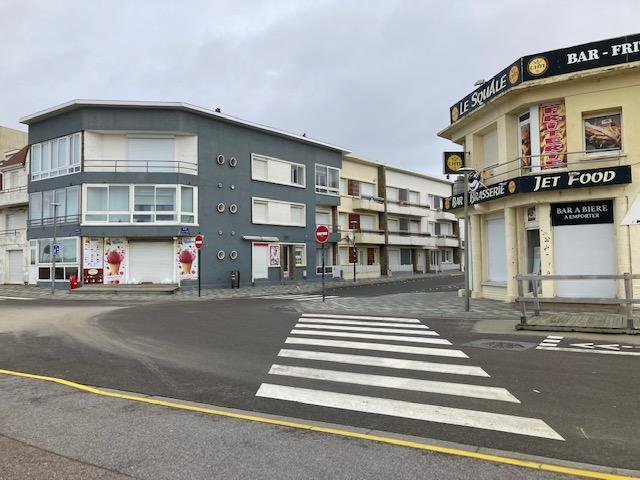 The site where we are staying is almost full so where are they? The only shops open are estate agents, lots of them, we counted six. We are thoroughly dispirited, our last day in a dead ghost town. It's probably packed and mad in the summer but today we are it! We continue to walk around resigned to the fact that we will not be dining out celebrating the end of our latest European tour with a fine French dinner and a bottle of wine, oh no it's sausage and chips on the van… What's this? In the distance, we see a sign with the word "restaurante" on it. We approach carefully and are staggered to find a modern cosy restaurant, with people falling out of it smiling. This can't be right. We approach and look in the window and there they are, people, eating, drinking and laughing. There is life in Merlimont after all!
Inside is lovely. It's warm, nice music, beautifully styled and our hosts are so nice and polite, showing us to a table for two where we had what we agreed was the best dinner out in a while. It was excellent.
Happy, we make it back to Jess. Film night tonight. Not done it in a while. Tonight is a doubleheader. First off was Julie and Julia. A film about two women who are into French cooking. Based on a true story it was in fact miles better than described here and well worth a watch. The second film was The Big Short. A film about the 2008 financial crash, who started it, how it started and how it hasn't really ended. An excellent movie, keep your hand on your wallet while you watch it.
Tomorrow. Home!
30th January – Merlimont to HOME 222 miles
That's it! Well not quite. We have a 1-hour drive from Merlimont to Calais. It's an early rise. It's dark when we set off. Confidence that we will get away from Merlimont and be in Calais with time to spare was dreadfully ill-conceived as we get lost within 3 minutes of leaving the site. "You can come to Merlimont, but you can't leave!" There are no signs for Calais. There was one sign for the motorway but going in the wrong direction. After a few frustrating stops and consulting with Google maps, we swap over, Del in the driving seat and H resorting to paper maps.
Soon we are on the motorway, going in the right direction and arriving in Calais with 10 minutes to spare for our check-in. Whew!
There was some faff at the station having to show Covid paperwork and so on but once that was done we were in line and on the train and on our way to the UK.
After a McDonald's breakfast and a two and a half-hour drive, we arrive in Portsmouth for the final jump home to Fishbourne.
Tonight we plan to stay at the same campsite that our journey started from, just a short 3-minute walk from our house.
It's very handy as we can de-prep and clean our van before putting her into storage safe and sound, ready for the next trip in…?
Well, we are not sure yet. Probably May. We shall see.
Despite covid and despite European countries having different rules from each other and the UK, it is possible to travel. It required, for us, a test and some paperwork to get into Europe then back into the UK. We could move freely between France and Spain with no problems at all. Everyone was very nice to us, we did fear a little anti-UK sentiment but far from it.
We had to show our Covid travel pass more in France than in Spain, wear masks when required but so what. Of course, we can really do without the faff that Covid has brought upon us but we found the whole trip simple and most enjoyable. We had the small scare at the start where we thought we wouldn't get away, but that was down to an incompetent chemist here in the UK more than anything else. Would we do it again? Of course, we would and we very much look forward to it.
OUR FINAL THOUGHTS
Back home now and Jess is covered up safe. We would like to thank all of our friends and family who have read about our trip. It means a lot to us. As we have said, we are not selling anything or trying to prove any point, it was just nice to share our days with you and we thank you all.
Finally, when we got back we had a stack of Christmas cards from people that sent us cards but because we left on the 13th of December we missed them. Thank you so very much for your cards, we loved them and are sorry that we didn't get a chance to thank you before we left.
Our very best wishes to you all and safe travels…
Del, H and Jess!